Infrared Light Painting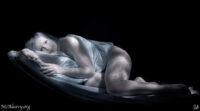 You could say that this was one of those images that nearly didn't happen. I last worked with Lelly 6 months ago during her pregnancy – you'll find the image we took then, Mother and Daughter, in the Pregnancy gallery – and I've been meaning to shoot her again ever since.
So we arranged a preliminary date for a shoot, and, despite the myriad conveniences of modern communication, managed to miss each other repeatedly until the morning of the proposed shoot. Tip for mac users: AdiumX eats offline MSN messages. We did, thanks to Lelly, manage to get things sorted in the end, and spent a couple of hours shooting with the infrared Nikon. At the end of the shoot, with no particular plan in mind, I decided it would be a good idea to see how light painting worked in infrared. This was the result. Good things come to those who wait.