About/Contact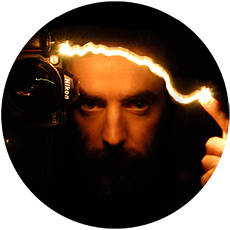 About
I'm based in Glasgow, Scotland, working with light painting, infrared and alternative lighting. My main areas of expertise are tripping over things in the dark and losing things in the studio, particularly lens caps and torches (although I still maintain that aliens move them when the lights are out).
Contact
You can get me by email at or find me on Instagram (@mcaleavy) and send me a message there. There was a contact form here for a while, but the who needs the spam?
Filtering
This site contains art-nudes. I've filtered those images and hidden them behind the button. Press it to see them. Press it again to turn them off.
Privacy (GDPR)
There are no cookies here.
This website uses 2 Session Storage Variables to control the filter button states. These values have no other function, do not persist beyond the current browser session, and aren't sent anywhere else.
dmCAT controls the gallery filter buttons.
NTOTT controls the Show / Hide Nudes button.