About/Contact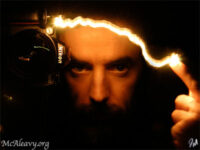 What's this all about?
This site contains art-nudes. I've filtered those images and hidden them behind the button. Press it to see them. Press it again to turn them off.
I'm a photographer based in Glasgow, Scotland, working with light painting, infrared and alternative lighting. My main areas of expertise are tripping over things in the dark and losing things in the studio, particularly lens caps and torches (although I still maintain that aliens move them when the lights are out).
Light painting uses hand held lights to light the subject during a long exposure. The light is painted into the image in a dark studio. There's a more comprehensive explanation of the technique here: Tutorial, and a basic intro here: Light Painting.
Contact me
For enquiries, questions, comments or just to say hi, you can send me an email at or find me on Instagram (@mcaleavy) and send me a message there. There was a contact form here for a while, but it just collected spam.