The Gray Room's 1st Birthday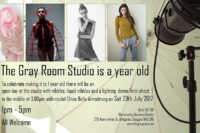 A year ago my friend John Gray opened his studio, The Gray Room, in Bridgeton. On the 29th of July the studio is having an open day. Come along for nibbles, good bants and a studio demo. The images I've taken there are shown below.
---
Press Show Nudes to see these images.